The Party Pugs had the pleasure of attending this particular birthday in the curly-tailed flesh.


Considering it was in honor of our 3 year old human, and all.


He's a pretty awesome kid, in that he likes to feed us treats and doesn't pull our ears.

There was a balloon wreath for the front door, in lime, purple, white and silver. It came out so cute and was the perfect welcome for our guests. Or backdrop for a (person) family photo (We understand. Party Pugs are hard to wrangle).
And inside we go.
This (non-working) rendition of "The Claw" dangled over favor bags....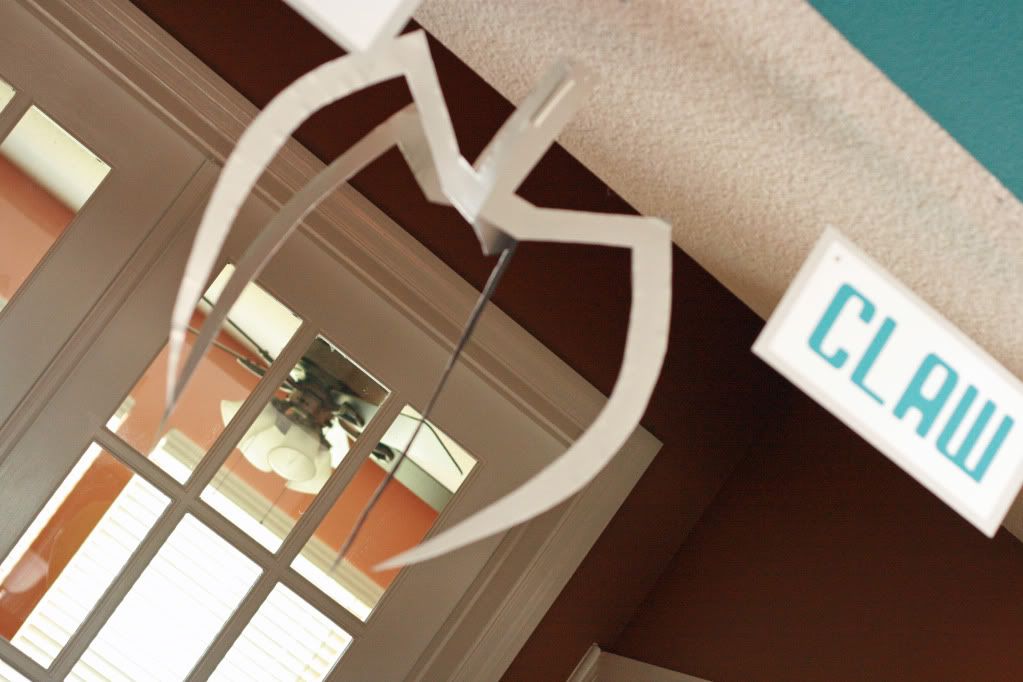 ... made to look like little green aliens. Ooooooh.
The bags were filled with a container of Play-Doh, bubbles, a #3 crayon and some Toy Story fruit snacks.
Guests could also take home a #3 Buzz-themed cookie.
It's so easy to make these tissue paper poms for some great hanging pieces in any color you like.
And there were these great alien party hats
.
Banners are so easy to make with some fun fonts and cardstock: there was a matching happy birthday banner, and this "fueling station" banner for over the food table.
And speaking of food...
The menu included mini bagels with cream cheese, munchkins, Toy Story Cheez-its, pretzels, chicken salad with hawaiian rolls, pasta salad, and a fruit salad in a carved watermelon.
Oh. And cake. Can't forget the cake.
This Pin the Antenna on the Alien game was made from poster board, foam board and cardstock...
But the highlight of the day was Jessie and Buzz paying a visit to the party.
There was signing and dancing and the kids had so much fun.
So did the birthday boy's father. You know that sombreros automatically mean "good times." At least to this human.
Like father, like son.
It's hard work being the birthday boy.
There was a break to blow out the candles (We know, we know. Bad candle placement)...
And then it was back to the fun!
All parties need some photo props. Here we have Alien eyes on a stick, made from dowels and stiffened felt...
Fun for adults!
And with this Space Ranger spaceship cutout (made from a really, really big box), the kids had fun, too!
Happy birthday, little guy!
Sources:
Buzz Lightyear Birthday Shirt:
Sibling Specialtees on Etsy
Crayon Favors: Lil Doodlers on Etsy
Alien Party Hats: Hallmark via Amazon
Paper poms: DIY via Martha Stewart Weddings
Balloon wreath:
DIY via How Does She
Read more...